FineCaddie laser golf rangefinder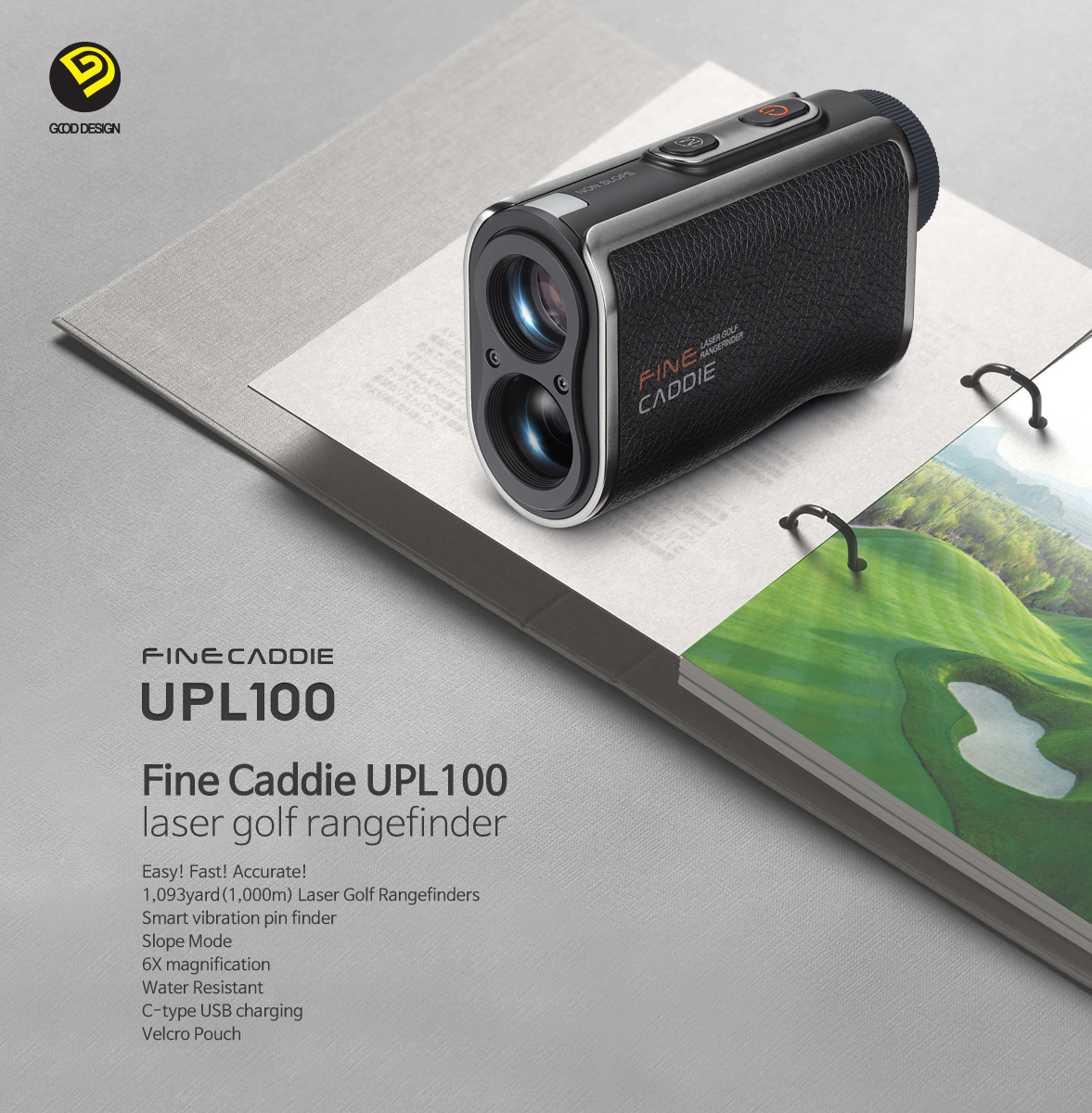 FLAG/PINFINDER LOCK-ON SMART HAPTIC-FEEDBACK
When Pinfinder is activated, vibrations alert the user:
One vibration on normal measurement & Two vibrations on Pinfinder.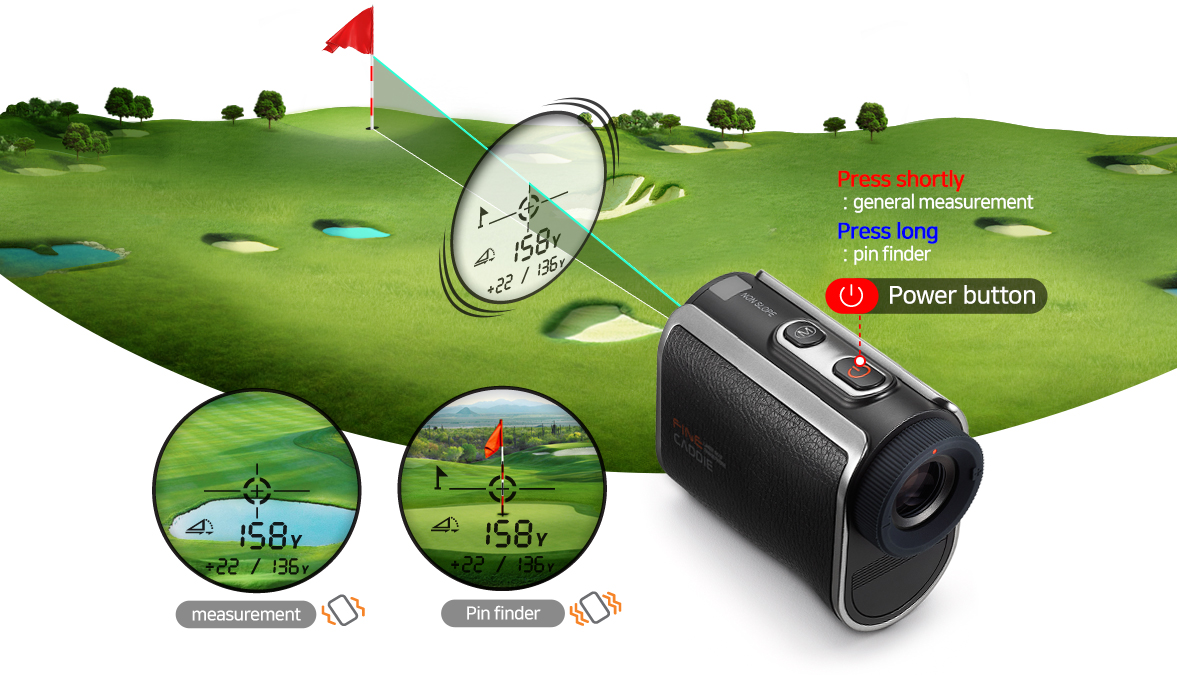 Easy!Fast!Accurate!
With one button, you can measure distance and slope Convenient mode switch helps you check distance in any geography features or course.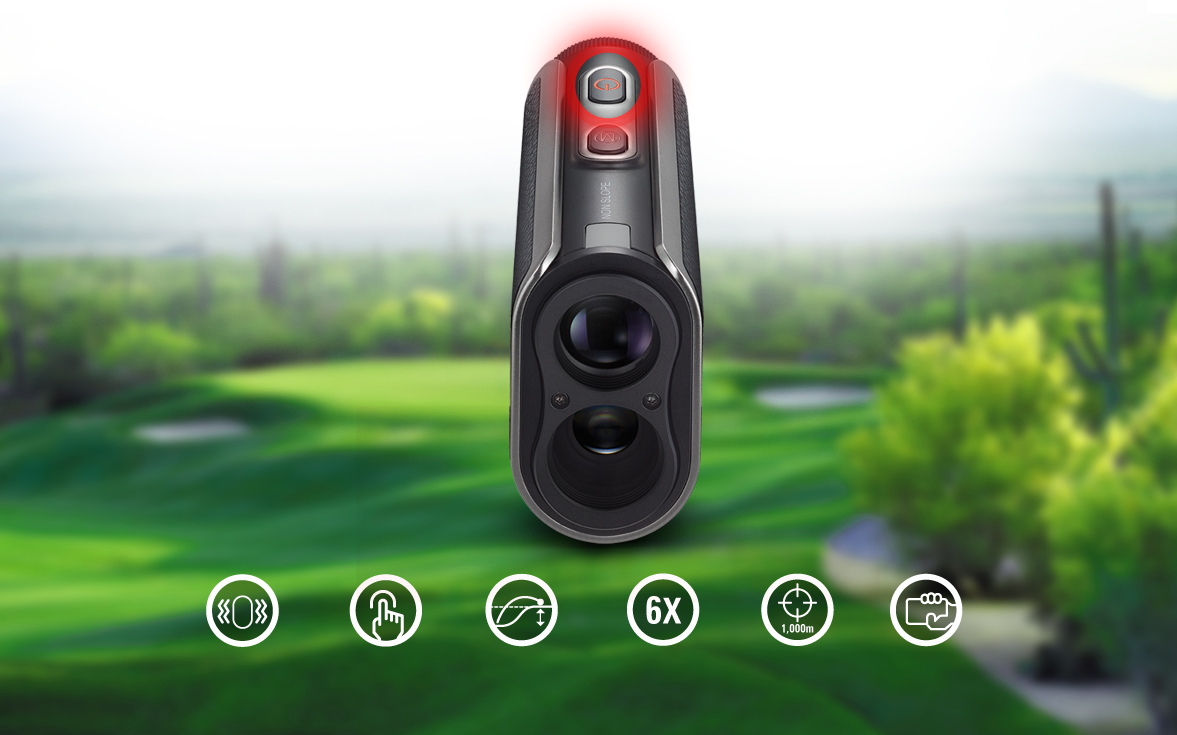 Swing with Confidence!
Pin finder gives vibrations when the rangefinder picks up the flag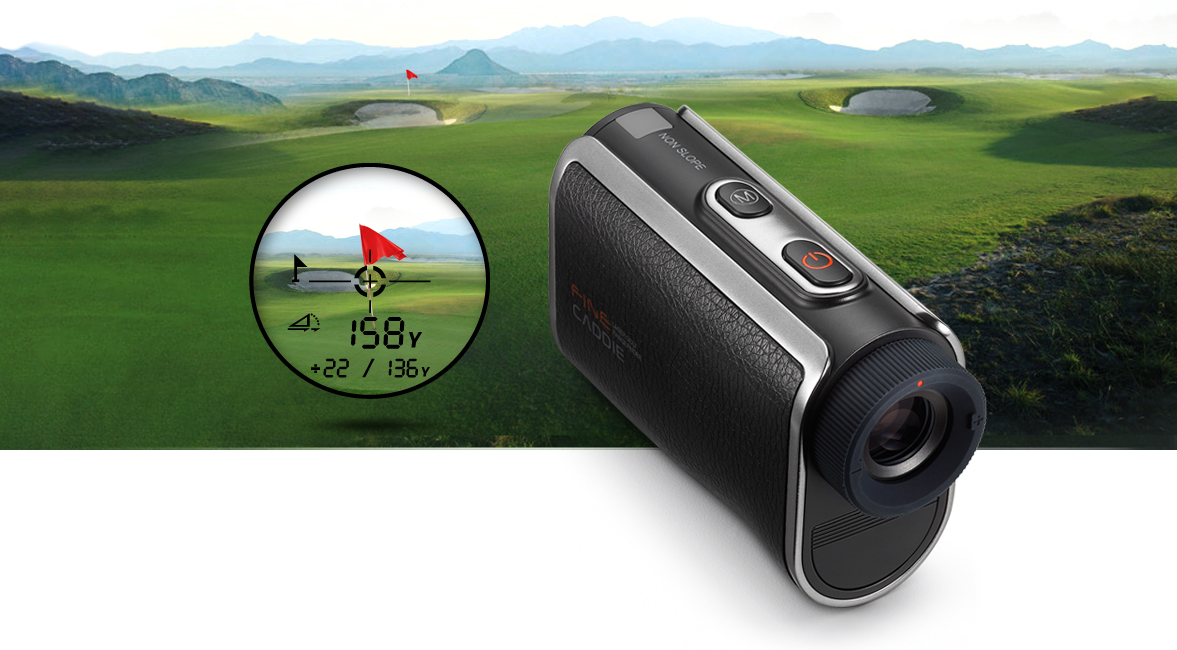 SLOPE MODE SUPPORT: Actual Attack Distance
With slope mode activated, the angle of attack is factored into the final measurement.
The approximate distance is rounded for you. FineCaddie provides both strategic options.

Slope Mode provides a secondary approximation of distance required based on objective information provided.

TOURNAMENT NON-SLOPE MODE
Special Features can be turned ON/OFF at any time
Although slope mode may be allowed in certain tournaments, FineCaddie provides users the ability to enable/disable this feature depending on rules & regulations.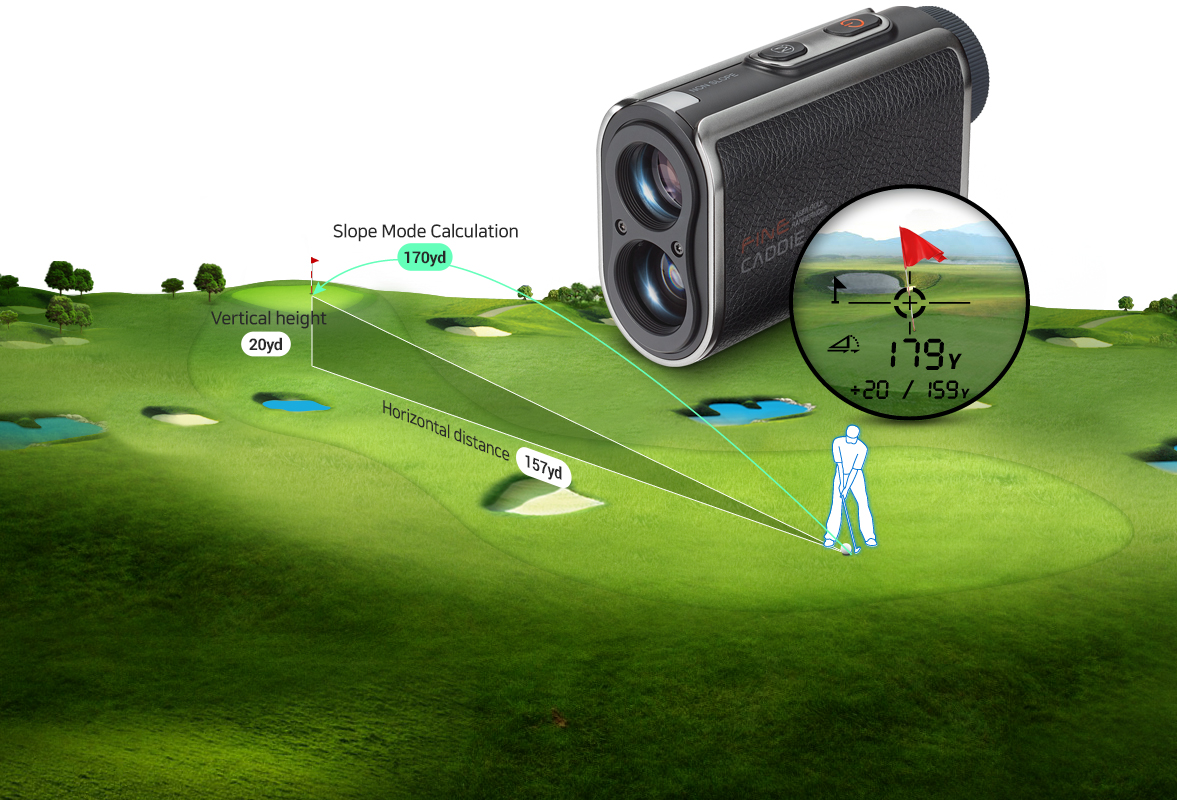 Slope Mode ON/OFF
Non Slope Mode with red LED for golf tournament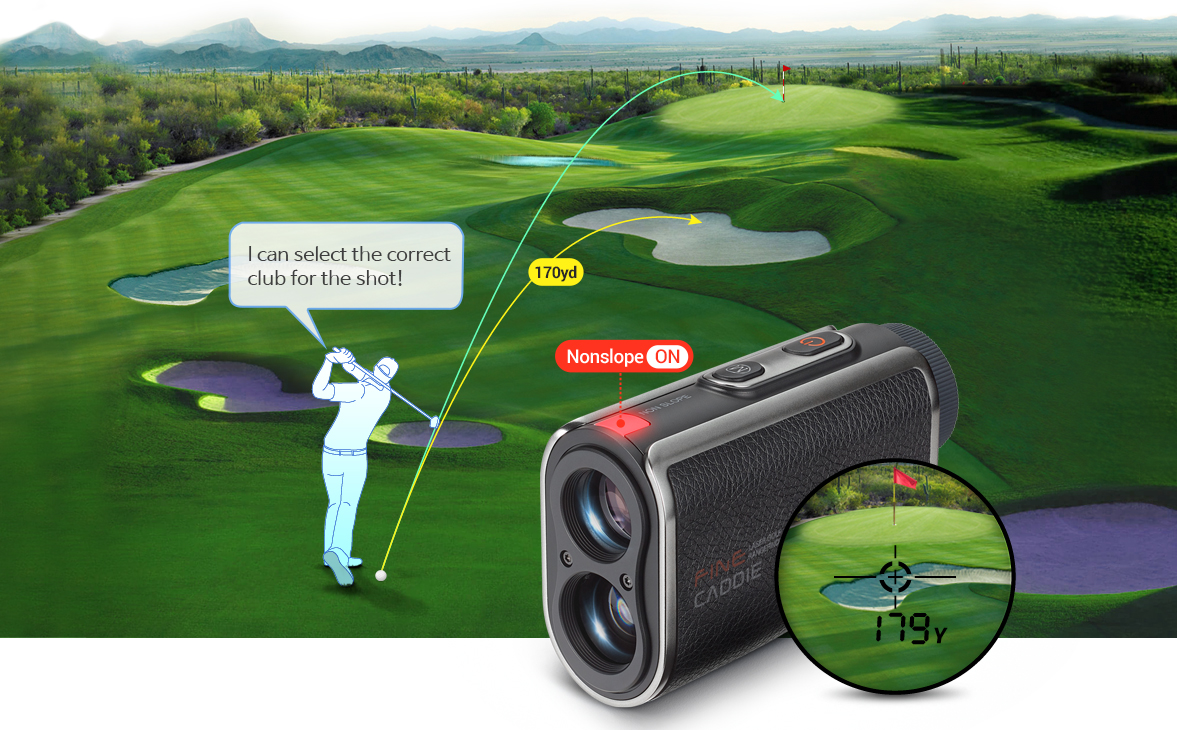 Always clear! 6X Optical Magnification
The FineCaddie comes fully-equipped with a wide-angle lens that is coated with a multi-layer anti-reflective film for increased visibility, while providing the user with 6 times the normal magnification for a brighter & clearer view

A SHARPER VISION
always makes for a more accurate shot
FineCaddie Laser Rangefinder is a powerful professional tool used to enhance the experience of the game, both for players of old, and new.
Every decision we make is for the joy of our users.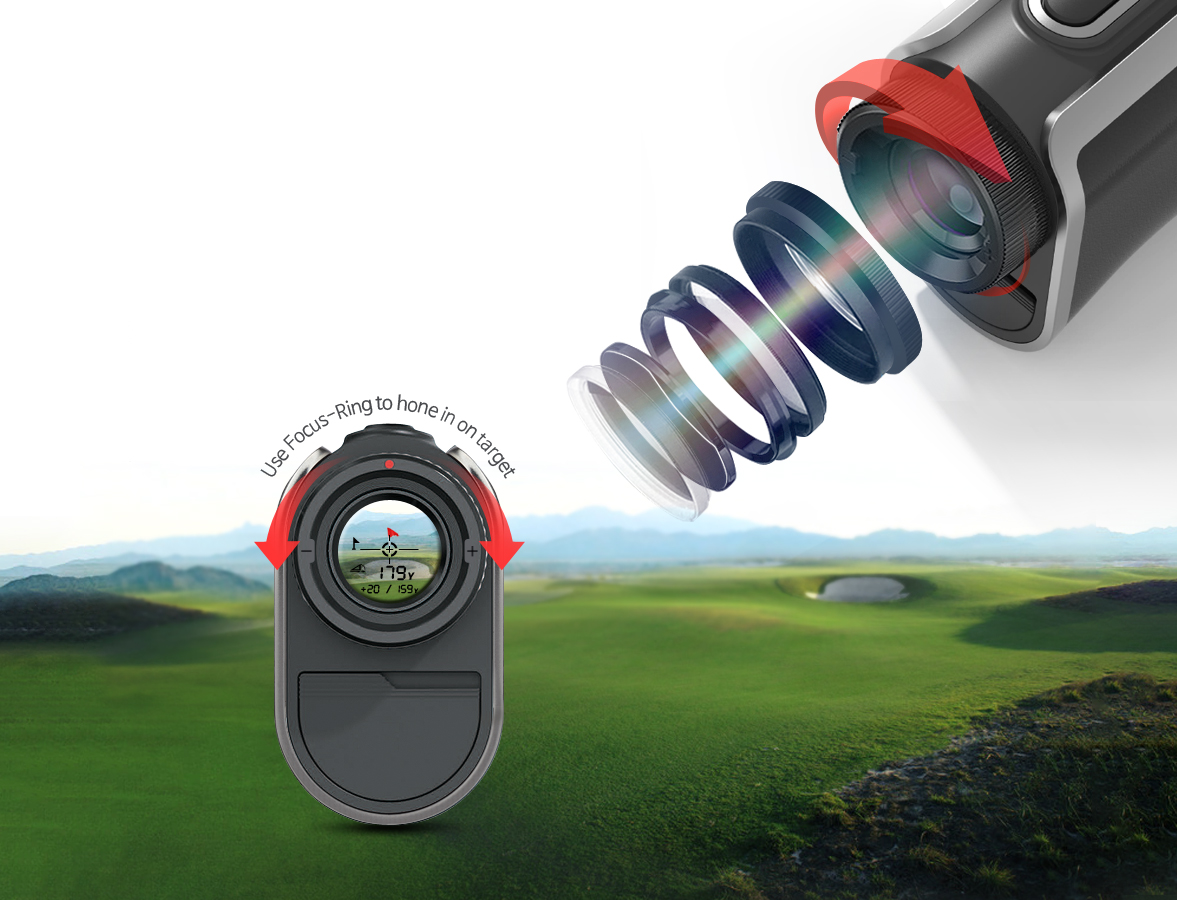 SINGLE-ACTION BUTTON
Quick & Easy to switch between US Units & Metric System
1. Select meters or yards
2. Aim & set desired distance
3. Press & hold to convert units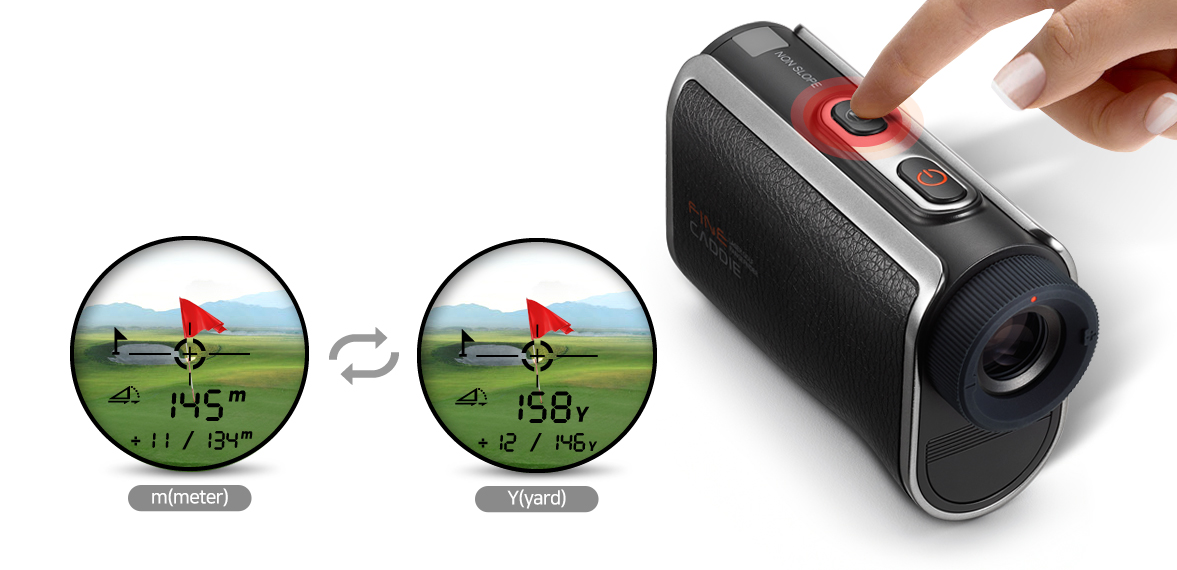 MAXIMUM DISTANCE: 1093 YARDS
FineCaddie Rangefinder is accurate up to 1,000 meters
Distance measurement from 3.3 yards up to 1093 yards is possible! (3m-1000m)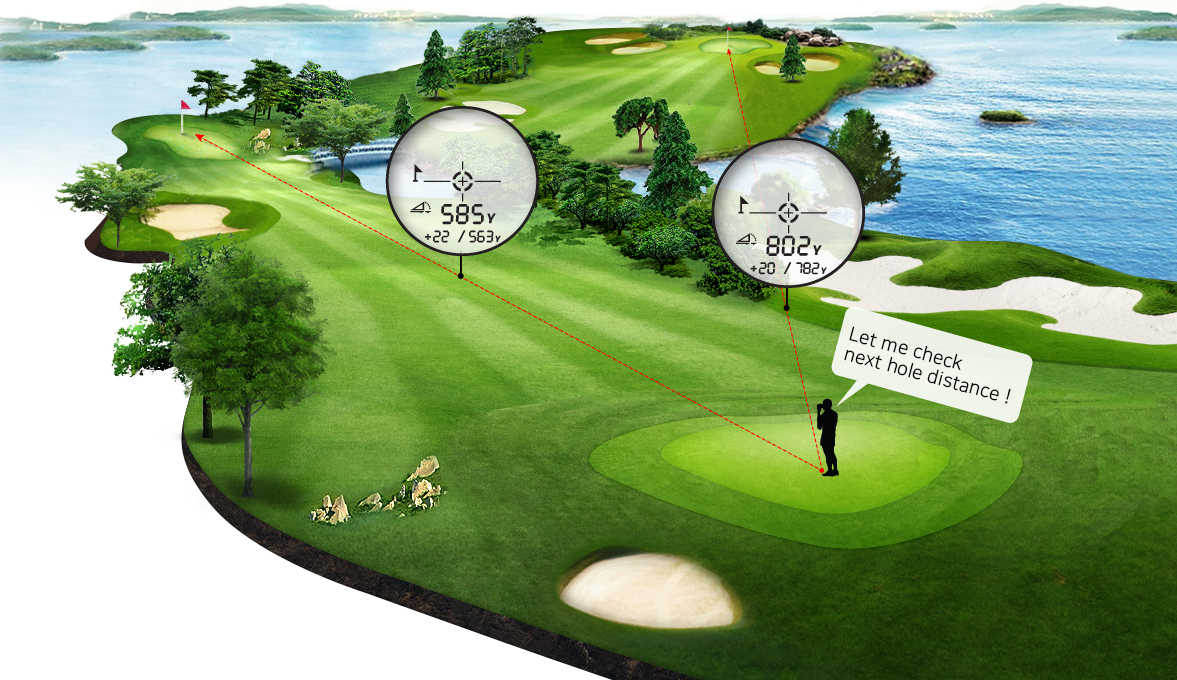 WEATHER-RESISTANT DESIGN
FineCaddie has a weather-resistant housing that keeps the device dry and protected from water droplets, rain, humidity, and condensation.
* Disclaimer: No guarantees are provided for high water pressure exposures including but not limited to: The ocean, underwater use, washing machines, bathtubs, toilets, pools, ponds, lakes, saltwater etc.
USB TYPE-C
Charging your FineCaddie while on-the-move just got simpler:
The USB Type-C port provides fast charging, while reducing equipment load so you can focus on your swing! One cable for all your electronic needs.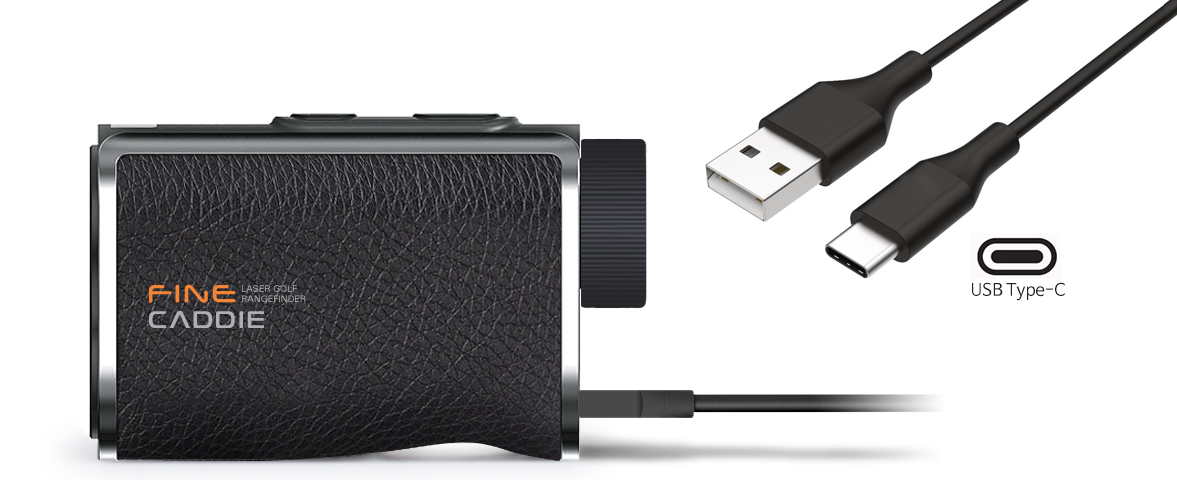 Measure 30,000 times on a Single Charge
Measure as much as you want without worrying about battery drain during the course.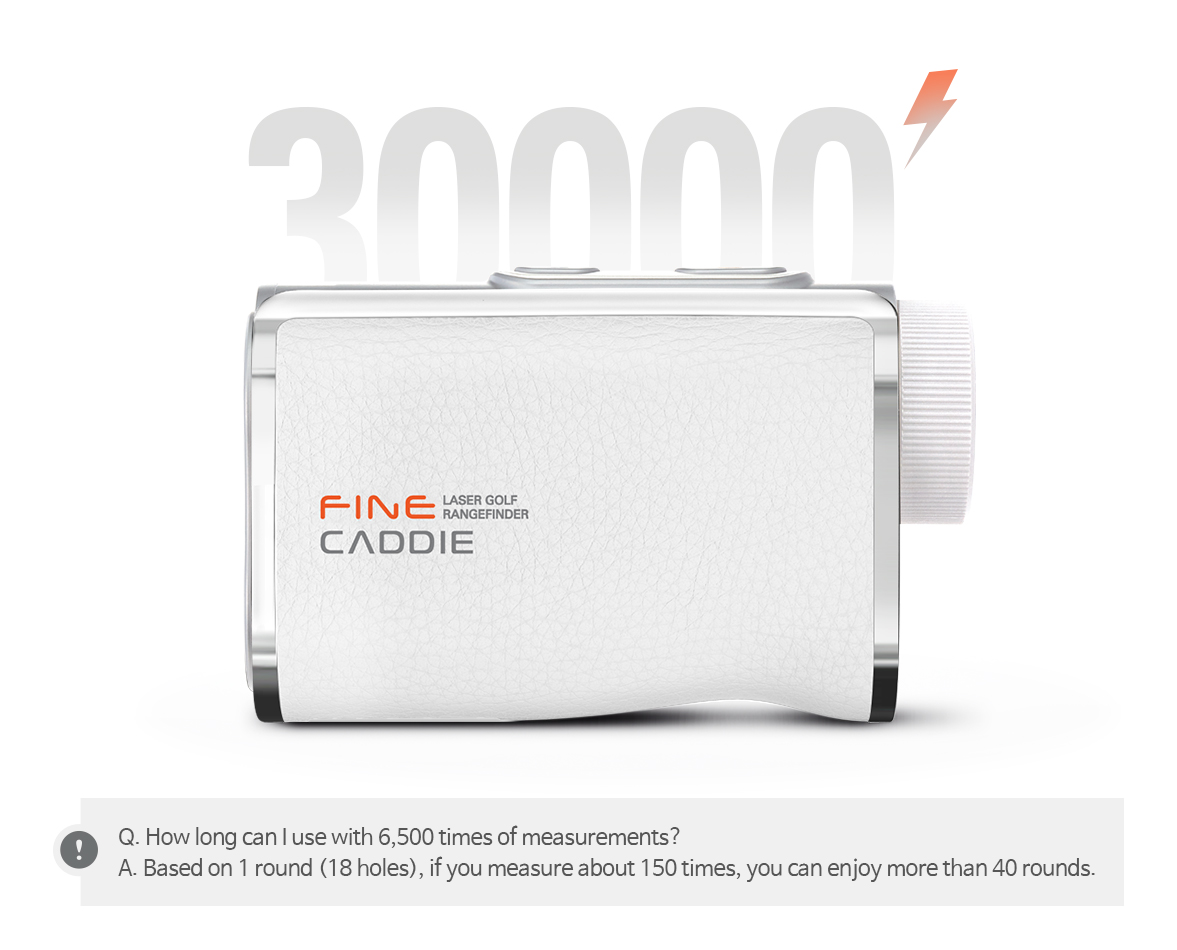 * You can measure up to 30,000 times with optimal battery life(charge/discharge 500 times) based on low-power HW design.
THE PERFECT GRIP
· Compact : easy for single-handed grip
· Durable housing for resilient portability
· Lower Soft-Curve support gives user a steadier grip for increased accuracy
· Premium leather detailing provides a refined sense of taste and comfort.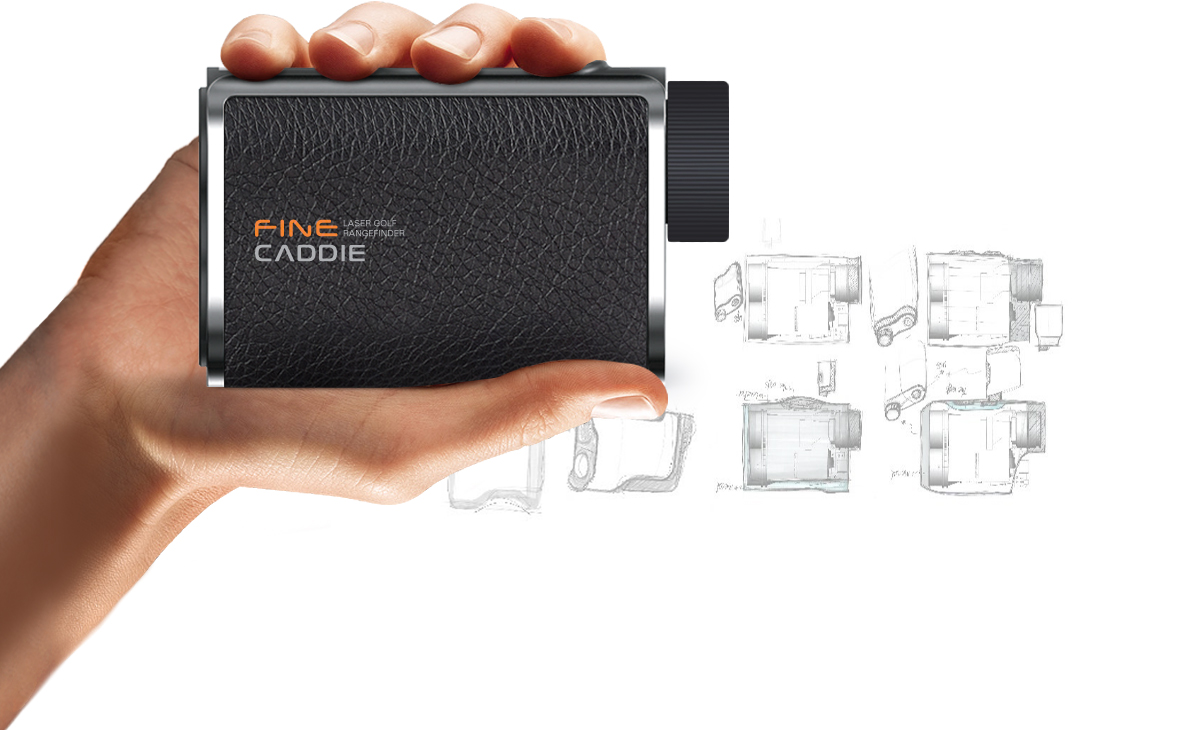 Portable Mini Size
Velcro pouch is included 80 x 40 x 125mm(L x W x H)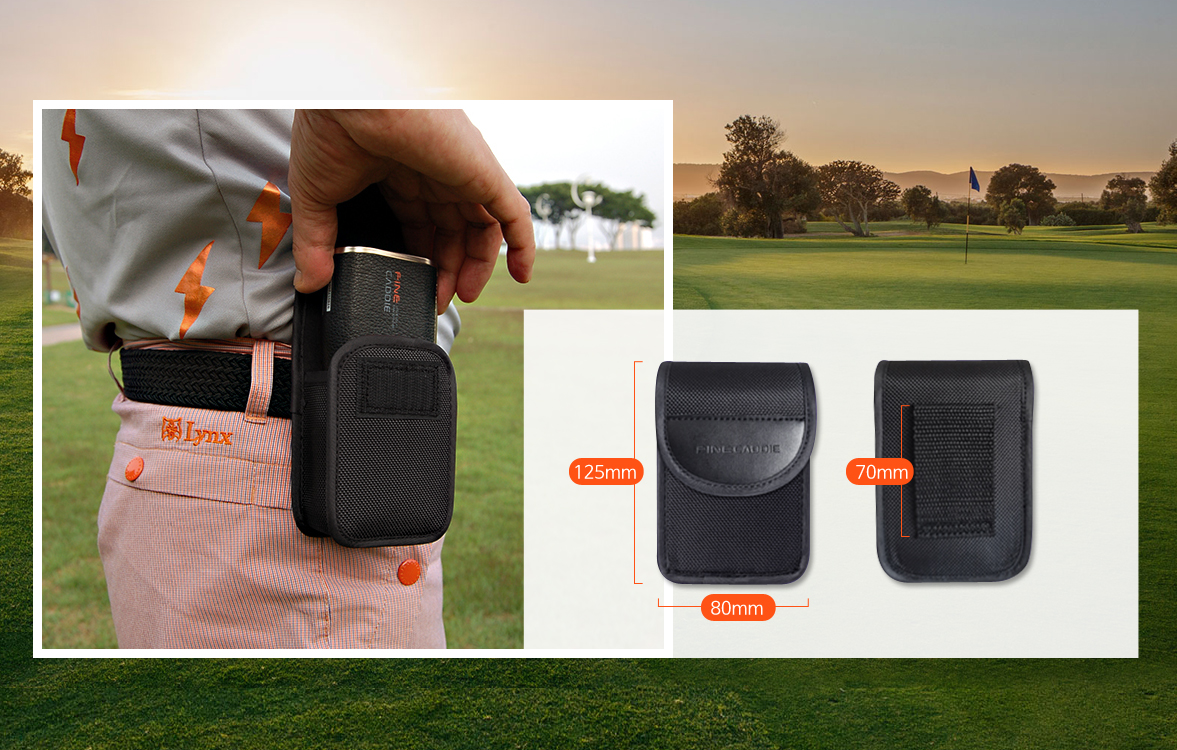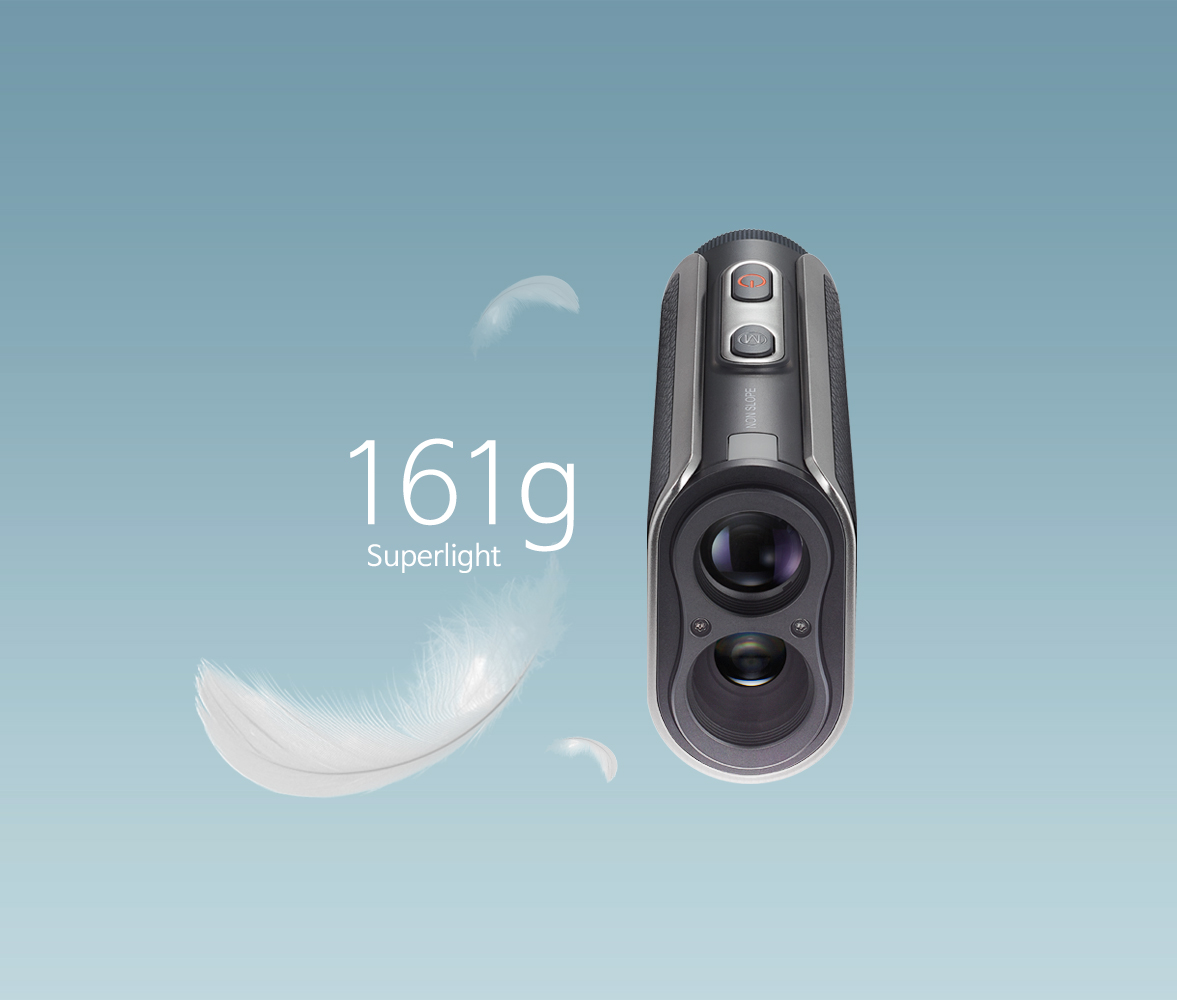 Full Package
UPL100, pouch, lens cleaner, c-type charging cable and manual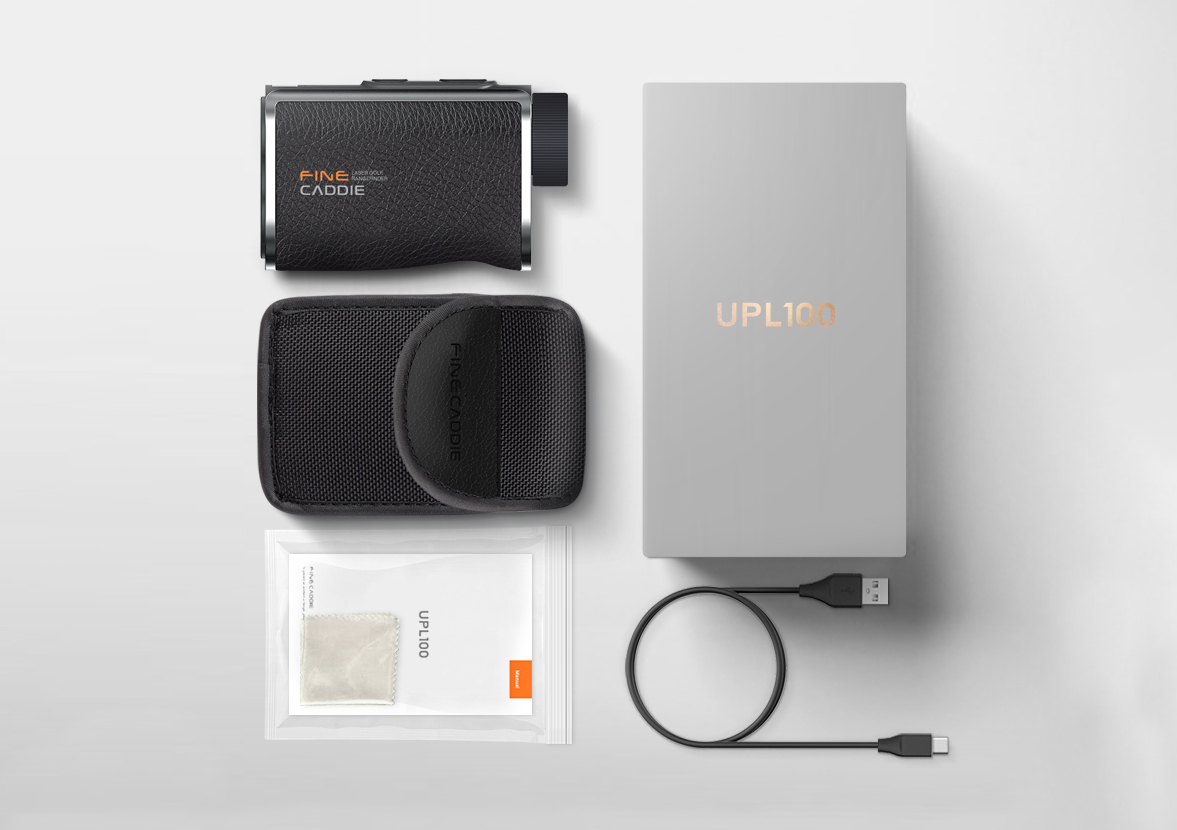 PRODUCT DESCRIPTION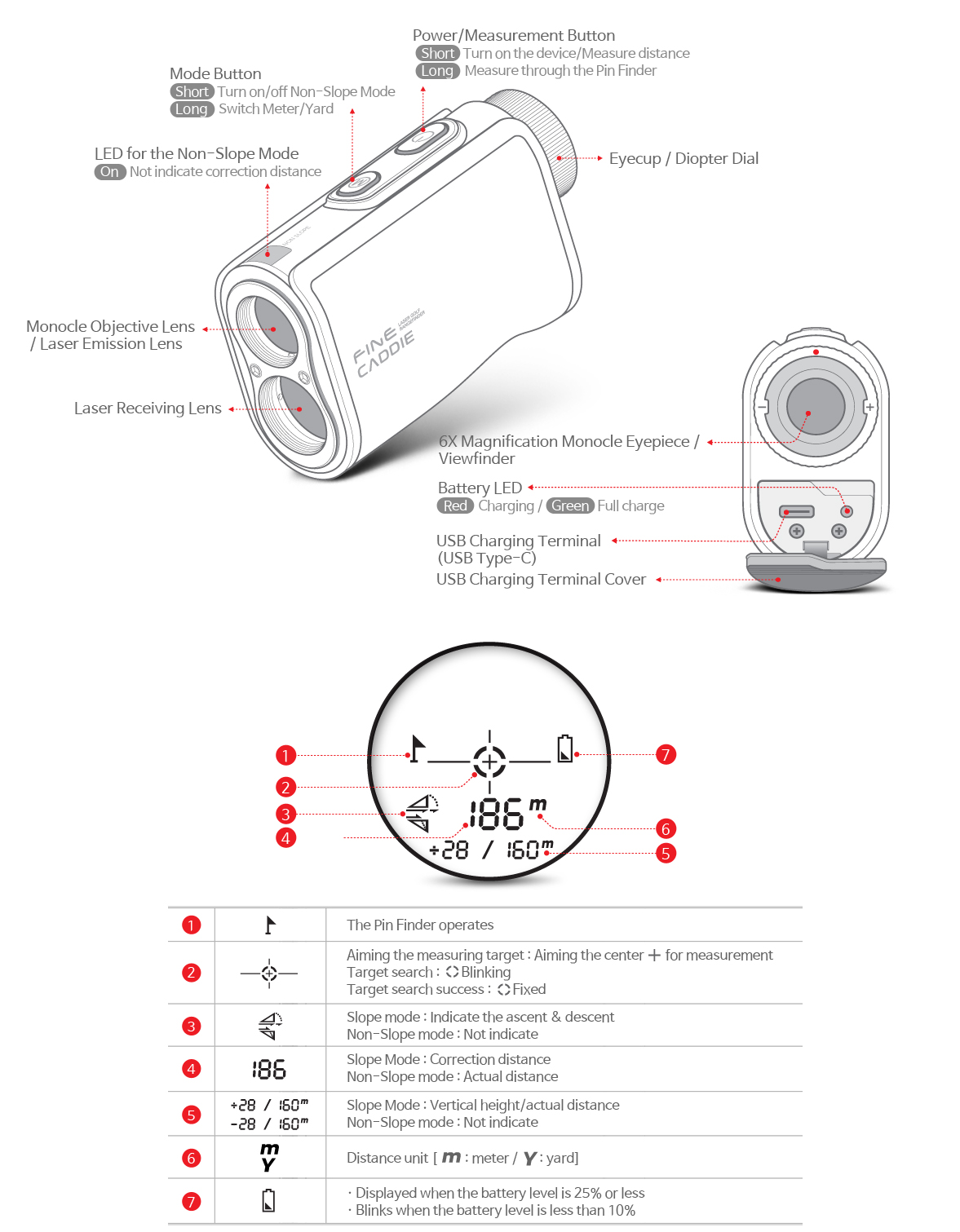 WHAT'S IN THE BOX
The contents in the package are subject to change without prior notice

※ For inquiries about missing components, please contact the place of purchase.
※ Our customer center does not accept inquiries about missing components.

SPECIFICATIONS
Model name
FineCaddie UPL100
Size/Weight
105 x 38 x 66.4 mm / 161g
Measuring range
3-1,000 Meters / 3-1,093 Yards
±(1.0m+Dx0.2%)
Measuring unit
m(Meter), Y(Yard)
Measuring speed
Less than 0.5 sec
Magnification
6X
±5%
Viewing angle
7.0°
±5%
Objective lens diameter
19 mm
Eyepiece diameter
15 mm
Diopter adjustment range
±6 dpt
Laser level
Class 1
IEC60825-1
Laser wavelength
905 nm
Power supply
3.7V / 730mAh
Li-ion
Battery life
Charging / discharging 500 times
Maximum charging time about 3 hrs
Battery operation time
Up to 30,000 measurements (Power on/off standard)
6,500 measurements (based on actual field usage)
Full charge
Waterproof
Waterproof
Operation temperature
-10℃~50℃ / 14℉~122℉
Height measurement
Support
Pin Finder
Support
USB Charging Terminal
USB Type-C
Certification No.
R-R-FDK-FinedriveA026
Model name: UPL100
Company name: Finedigital Inc.
Name: Laser Golf Range Finder
Manufacturer : Finedigital Inc.
Manufacturing country: China
Date of manufacture: Separately marked